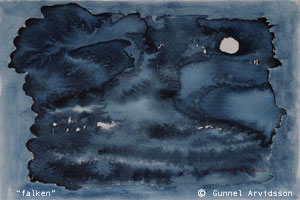 SUMMERBIRD
A bright sunny day
I think of you
and happiness smiles upon me.

Somewhere a fly is humming.

It is all rather quiet.

A blue butterfly
flutters by.
Gunnel Arvidsson
- Pictures in Poetry and Painting
From her first exhibition in 1995 Gunnel's work has focused on the combination of poetic expression and aquarelle. Her collections of poems are Light of Love 1993, The Inverted Tree 2001; A Blue Book 2003 and Life Dream 2012 are both sponsored by the Sensus Study Alliance. Also published is 12 Poetic Recipes 2015 (e-book, robolingua). Gunnel has received scholarships and prizes for cultural work from Sundbyberg Town and from the Master Eckhart society as well as the 'Swedish Authors' Fund 2019. She is a member of the Swedish Writers´ Union. Gunnel's CV you will find here >>.